Vasectomy in Port St. Lucie, Florida:

serving Indian River, Brevard, St. Lucie, and Martin Counties (Melbourne,Sebastian, Vero Beach, Ft. Pierce, Stuart and nearby communities)
672 SW Prima Vista Blvd, Suite 101
Drs. Stein and Curington have suspended vasectomy services in Pt. St. Lucie due to staffing issues. We are consolidating services in this region to our West Palm Beach location. The information below is retained in the event that this PSL location finds a solution to these staffing issues.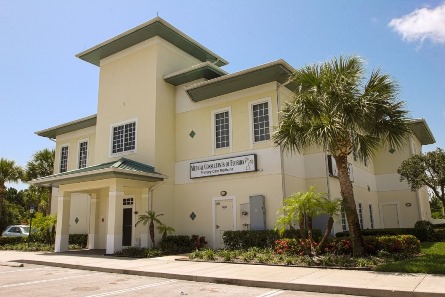 672 SW Prima Vista Blvd. Suite 101 is the office of MedFlorida Medical Centers and Dr. Mazin Shikara, who is kind enough to allow Drs. Doug Stein and John Curington to use his office periodically (on certain Friday mornings) to provide vasectomy services. For exact dates, see our Outfield Schedule. The fee is $590. A deposit of $100 is required to be scheduled (see below). The counseling process can be done online by (1) reviewing our vasectomy page, and (2) viewing the online counseling video. So only one visit is required, but you will have our office, home, and cell phone numbers so that you can always reach us if you have questions after your procedure. You will also be given a mailer, so that you can send a semen sample to our Lutz/Tampa office 12 weeks after your vasectomy to be sure that your semen is sperm-free.
The official address is:
672 SW Prima Vista Blvd, Suite 101
Port St. Lucie, Florida 34983
If you must contact the office for directions or to say you will be late, please call our main office: 813-536-1430.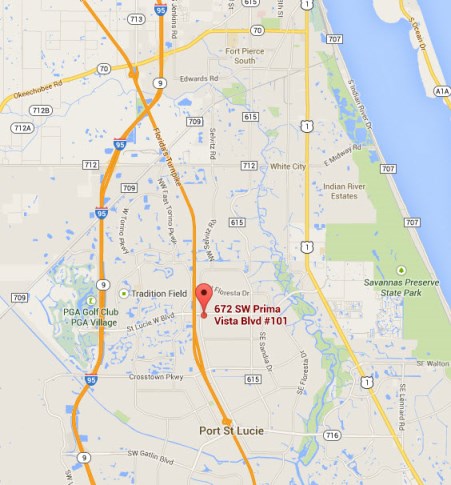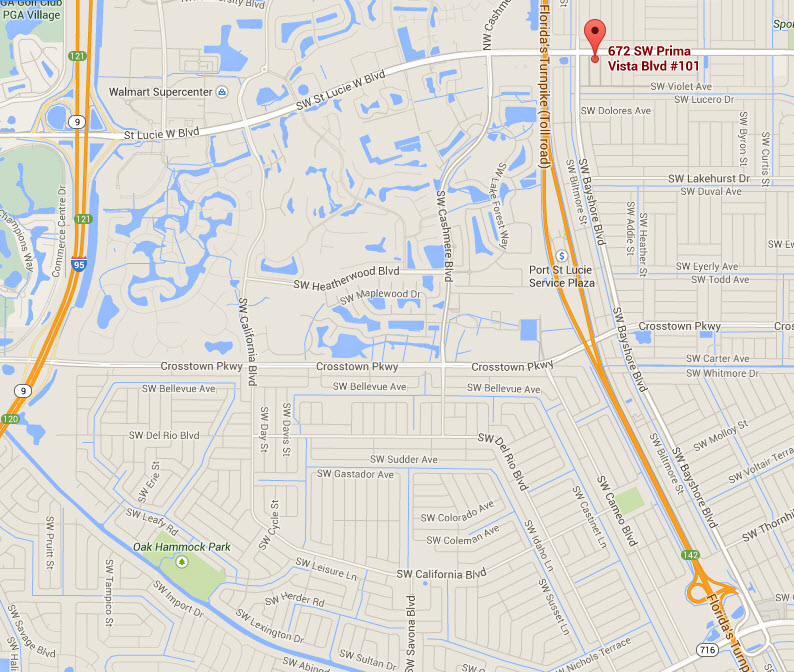 Directions:
From the south, take the Florida Turnpike to Exit 142 then SW Bayshore Boulevard north (running parallel to the northbound Florida Turnpike) to SW St. Lucie W Boulevard. SW St. Lucie W Boulevard turns into SW Prima Vista Boulevard at its intersection with SW Bayshore Boulevard. Turn right onto SW Bayshore Boulevard and the office will be on the right.
From the north, take I-95 to Exit 121. Head east on SW St. Lucie W Boulevard, under the Florida Turnpike overpass, and the office will be on the right.
To schedule

...




C

all

Dr. Stein's office

813-536-1430. Staff is available to take your call between 9 and 4:

0

0, M-F. During other hours, or if you get a recording because someone else is on the line, you may leave a message and his staff will return your call.
When you arrive at the Port St. Lucie location, you will be asked to provide demographic and health history information as you are at any doctor's office. You may now register online before your visit. The benefits are numerous and listed in our On-line Registration Page.
Fees
The fee is $5

9

0

.

A deposit of $100 is required to be scheduled, unless your vasectomy is covered under Title 10 through a county health department, in which case a deposit is not required.

The deposit is fully

refundable until 7 calendar days prior

to the appointed vasectomy date

,

non-refundable thereafter

for either cancellation or postponement.

The deposit is paid with Visa/MasterCard during the online registration process, or by providing a VISA/MasterCard number to our Tampa office (813-536-1430). The balance of the fee ($490) is due on the day of the vasectomy, payable by cash or check. Credit cards are not accepted at this site, but you may prepay with Visa or MasterCard by calling your card number to the Tampa office (813-536-1430) during office hours: 9 AM - 4 PM Monday - Friday. Friday vasectomy dates are listed in our Outfield Schedule Page. Some insurance plans (those with which we are contracted providers) are accepted, but call your carrier and ask the questions here. All patients receive a properly coded receipt that they can submit to their insurance carriers, where applicable, for reimbursement. For questions about

Medicaid

, please click here.
Financial Aid
If you have no health insurance and your income is low, you may qualify for financial aid under Title 10 from the

Indian River

County Health Department, from the Brevard County Health Department, from the St. Lucie County Health Department, or from the Martin County Health Department. Click for details.